Jagannath University EMBA Admission Circular & Result 2019
Jagannath University EMBA Admission Result 2019. JNU EMBA Admission VIVA Routine 2019. Jagannath University EMBA Admission test seat plan 2019. JNU EMBA admission Result 2019. Jagannath University Business Faculty has invited application from fresh graduate or service holder. EMBA application start from November 8, 2018. JNU Evening MBA application last date December 5, 2018. JNU EMA admission test will be held on December 7, 2018. Students can collect application form from university and they can download application form online. EMBA admit card and seat plan will publish later.
1st Semester total cost require Tk. 35,000/= for three course/credit and Tk. 41,000/= require for four credit. Jagannath University Evening MBA Admission Result result will publish within August 10, 2017. Students can apply from different background. Students will face 100 marks written test, 16 marks for interview and 84 marks from previous SSC/HSC/Honors/masters result.
JNU EMBA Admission Schedule 2019:
Admission Application Fee: Tk. 1000/=
Application Submission last date: 5/12/2018
Evening MBA Admission Test: 7/12/2018
VIVA Voice Exam: after 12/12/2018
Subject Allocation & Admission Test Final Result: within a week
Admission from merit list: is not publish yet
Class Time: Evening
Class Start: January 2019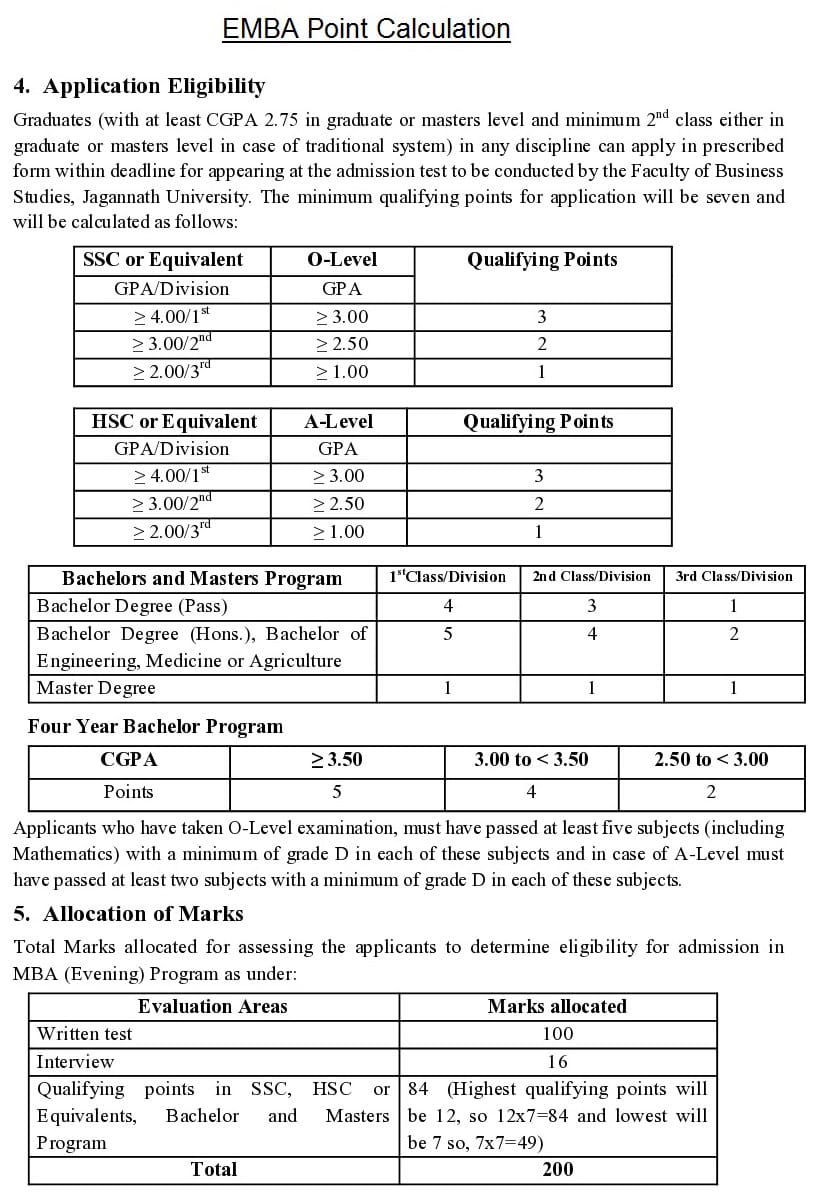 Jagannath University EMBA Admission Test Result 2019 (update 11/12/2018)
Jagannath University EMBA Admission Circular 2019 (update 4/11/2018)
Jagannath University EMBA VIVA Routine 2018 (update 4/8/2018)
Jagannath University EMBA Admission Written Result 2018 (update 4/8/2018)
Jagannath University EMBA Admission Circular 2018 (update 6/7/2018)
Jagannath University Evening MBA Admission Result & VIVA Routine 2018 (update 2/3/2018)
Jagannath University Evening MBA Admission Circular summer 2018 (update 2/3/2018)
Jagannath University Evening MBA admission Final Result 2018
Jagannath University Evening MBA admission Result 2018 (update 20/11/2017)
Jagannath University Evening MBA admission Circular 2018 (update 30/10/2017)